A New Format
Welcome to the evolving New Mexico Water Dialogue newsletter. As many of you know, we have decided to move to an electronic newsletter which we now hope to make available monthly. The format is changing. We want to also welcome John R. Kofonow who will be laying out the new version of the newsletter.
Up until this year, we published a spring newsletter with a summary of that year's annual statewide meeting. Kathy Grassel worked for months with many computer glitches to compile a 57-page transcript of the 2020 meeting "Building Water Resilience for New Mexico Communities." The transcript of the 2020 annual meeting can be accessed on our web page. Her summaries of the eleven talks are great. We have decided to include three to four summaries on these talks in this and the next three issues of the newsletter to avoid overload. President Jason John's welcome appears on page two followed by our two keynote talks by David Gutzler and Melinda Harm Benson.
SAVE THE DATE
January 13–14, 2021
New Mexico Water Dialogue
27th Annual Statewide Meeting

New Mexico's Efforts to Improve Forest Health and Minimize Wildfires
By Susan Rich, Energy, Minerals and Natural Resources Department, Forestry Division
September's spate of wildfires in California and Oregon devastated entire towns and treasured forestlands. The cost in terms of lives and livelihoods is hard to comprehend. Beyond that, impacted communities now have to face dangers posed by the fires' conversion of productive watersheds to potential sources of flash floods and debris flows.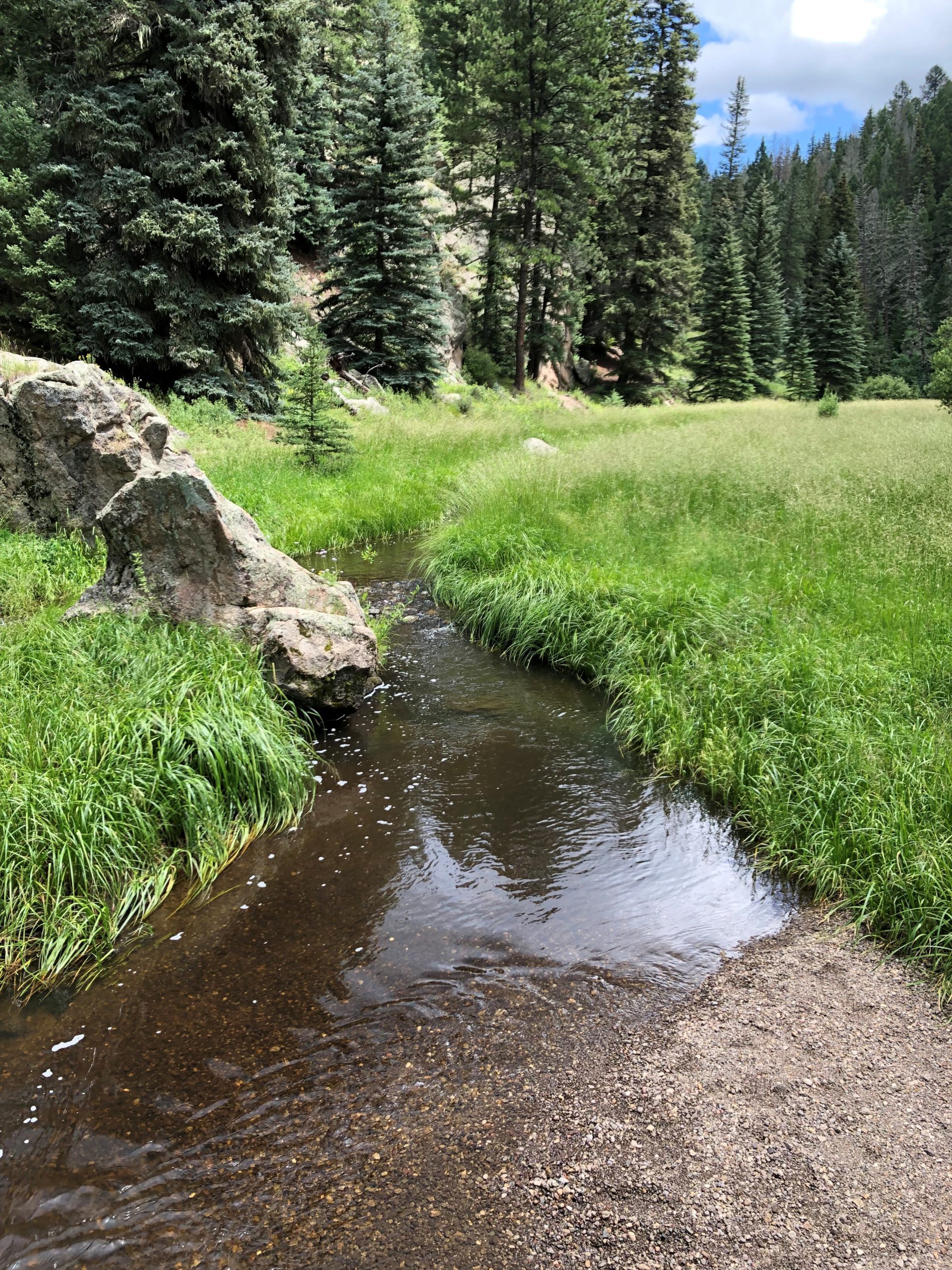 In New Mexico, we watched the fires and their aftermath with a mixture of horror and relief that "it's not happening here." But our own experience with the Las Conchas and Whitewater-Baldy megafires in 2011-2012 and the ensuing damage to watersheds and waterways – as well as long-term fire history recorded in tree rings – remind us that it indeed could happen here again.
This situation is not unforeseen. In fact, the state began preparing for the new wildfire normal 15 years ago with adoption of the NM Forest and Watershed Health Plan. The Plan's authors cautioned that while "it will take time for New Mexico to fully realize the benefits…the consequences of inaction are severe and prompt us to act now."
To that end, State Forestry established the Forest and Watershed Health Office to focus on the Plan's recommendations and created an advisory body of partners engaged in restoration to help break down barriers and collaboratively plan, fund and implement those recommendations. We incorporated the Plan's principles and recommendations into the 2010 Statewide Assessment and Strategy. The concepts, updated with our current understanding of climate, fire, ecological and social sciences, are integrated in the soon-to-be-published 2020 New Mexico Forest Action Plan.*
What's been accomplished so far?
NM has become a leader among states in using science to guide our work. Improved models, new and better data, and increased collaboration between scientists and practitioners enable us to collectively make more informed decisions and target dollars and effort to places where it will make the most difference.
Coordination and collaboration have gradually replaced competition as the norm. We have been able to accomplish more by leveraging each other's resources, and in many cases do it more efficiently and effectively.
Restoration treatments have increased in number and size and are being paired up to affect change in larger landscapes.
The State Legislature has dedicated $2 million in annual funding for watershed restoration, which attracts additional federal dollars to projects that protect our water sources.
This summer's Medio Fire demonstrated how working this way pays off. Strategically located thinning treatments, fuel breaks and a prescribed burn conducted by federal and tribal agencies working together allowed firefighters to contain the fire before it reached the Santa Fe municipal watershed and ski basin.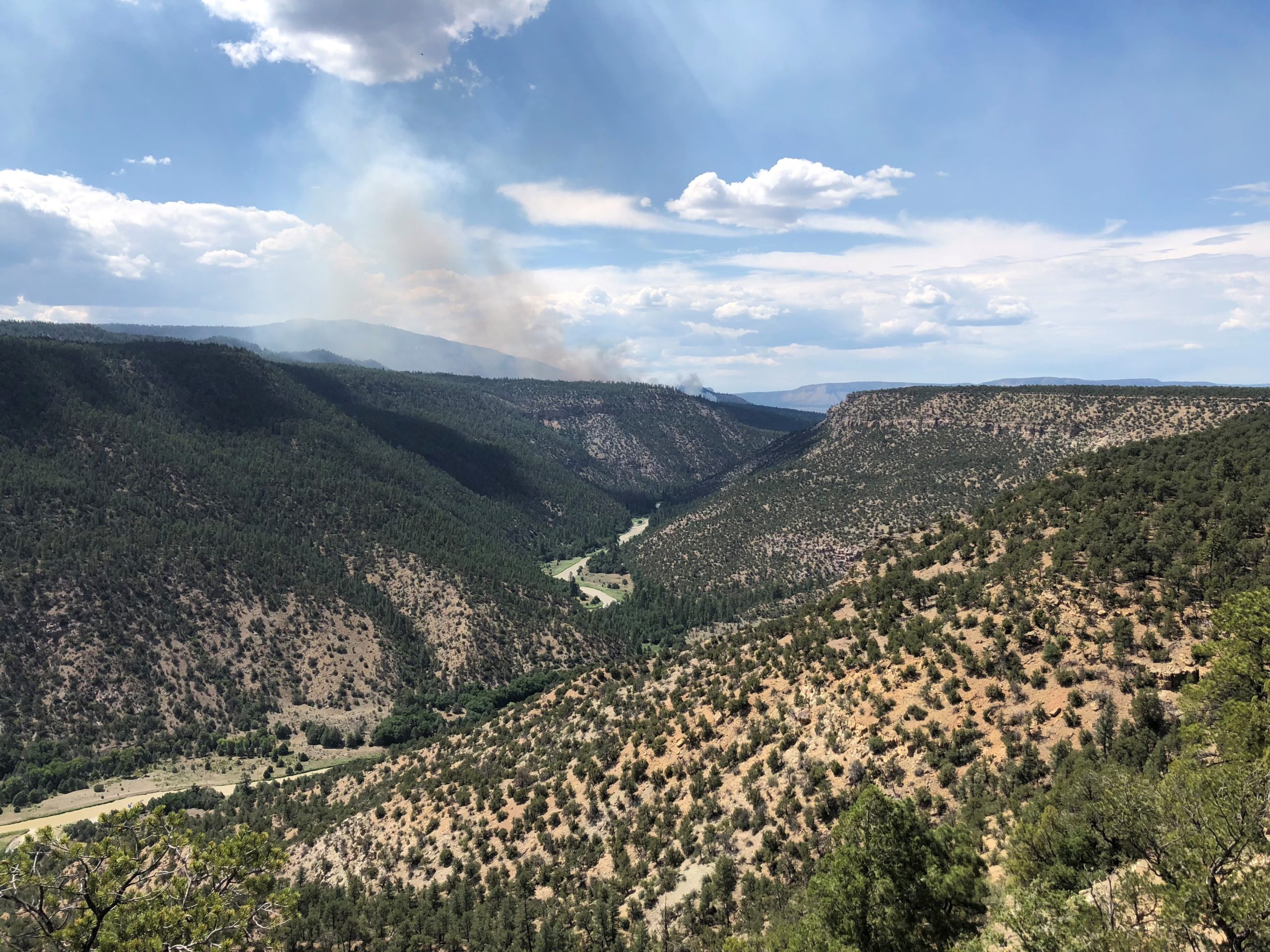 What's on the horizon?
The State and US Forest Service are working out better ways of doing business together under the New Mexico Shared Stewardship Agreement. The document provides a foundation for the two agencies to increase the pace and scale of restoration, and do so in concert with tribes, land grants and partner agencies and organizations. We began implementing the Agreement even before it was signed by co-funding development of the 2020 Forest Action Plan and the statewide geospatial assessment upon which its strategies are based. Bringing a broad range of stakeholders, scientists, and subject matter experts into the process made the assessment and plan shared resources that anyone involved in restoration can use. Many of the agencies and organizations that contributed input to the 2020 Forest Action Plan also committed to work on one or more of the action items it contains.
What this means for NM's water future
Forest are key determinants of water supply and water quality. In the Western U.S., approximately two-thirds of the water supply comes from forested regions, and the majority of snowmelt originates from mountain forests. Most of New Mexico's surface water originates in high elevation watersheds. The State Water Plan recommends that state, tribal, federal, and private land managers intensify efforts to manage these areas in order to improve resilience to drought and fire, and that funding entities prioritize funding for planning and implementing forest treatments, particularly in watersheds that impact streams which supply or deliver surface water to public water systems.
Recent analysis by the USFS Rocky Mountain Research Station used a cutting-edge scenario planning tool and new data developed for the 2020 statewide assessment to identify priority watersheds for restoration. Results indicate that treating areas prioritized for protecting water quality and water supplies in New Mexico have correlated reduction in wildfire risk to communities.
The strategies and actions in the 2020 NM Forest Action Plan aim to accomplish those exact goals. We encourage everyone who cares about New Mexico's water future to take the time to read them and see where your interest and talents fit in.
*The final plan will be posted on New Mexico State Forestry's website at http://www.emnrd.state.nm.us/SFD/statewideassessment.html. The draft plan is available now.
Our thanks to departing board member Dael Goodman for her many contributions.
And a welcome to new board members Kimberly Caputo-Heath and Dalilah Naranjo.  
Building Water Resilience for New Mexico Communities
New Mexico Water Dialogue 26th Annual Statewide Meeting
It was a full day of speakers attended by a packed house engaged in dialogue at the New Mexico Water Dialogue's 26th Annual Meeting. While the theme was titled, "Building Water Resilience for New Mexico Communities," the meaning of resilience was broadened beyond water throughout the day to include the spectrum of human capacity for burden, persistence, and adversity, leading to examples of enlightened response and power to take action. It didn't take long into the day of dialogue for a Native American woman to stand up and remind the audience of the resilience of First Nations going back millennia, not just in terms of water insecurity, but also in terms of survival itself.
---
Welcome from Jason John
President, New Mexico Water Dialogue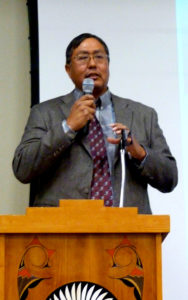 Jason John, president of the NM Water Dialogue and director of the Navajo Nation's Department of Water Resources, set the stage for this day of reckoning. He's also the Navajo Nation's lead on the technical side for the decommissioning of the Navajo generating station in Arizona. He alluded to this kind of resilience in the challenges that lie ahead for his people. He referred to the recent announcement that the San Juan generating station is going to be shutting down in New Mexico. "I know a lot of the aspects of the shutdown of a power plant," he said. "We are currently going through that process in Arizona. We are aware of the financial impacts it will have on our communities, on our water resources." The move away from traditional coal-powered power generation to renewable energy has been coming for a long while, but planning for the transition is just starting, according to John. "The Navajo Nation did not have a real plan in place for transition away from these types of economies of coal-fired generation," he said. "We were the sole supplier in Arizona to the Navajo generating station. All of the coal came from the Navajo/Hopi reservations, so the economic impact in that area is tremendous. We are dealing with that issue right now." The hardest part is change, he says, that it's easy to become used to the status quo, but that we can all agree that we can make a difference in our own communities and in our own lives that will eventually reach others. Education plays a big part of that, he says, adding that gatherings such as the annual dialogue meetings, full of a wide range of expertise, contribute mightily to that ideal.
---
How Clear is the Climate Crystal Ball?
Keynote By David S. Gutzler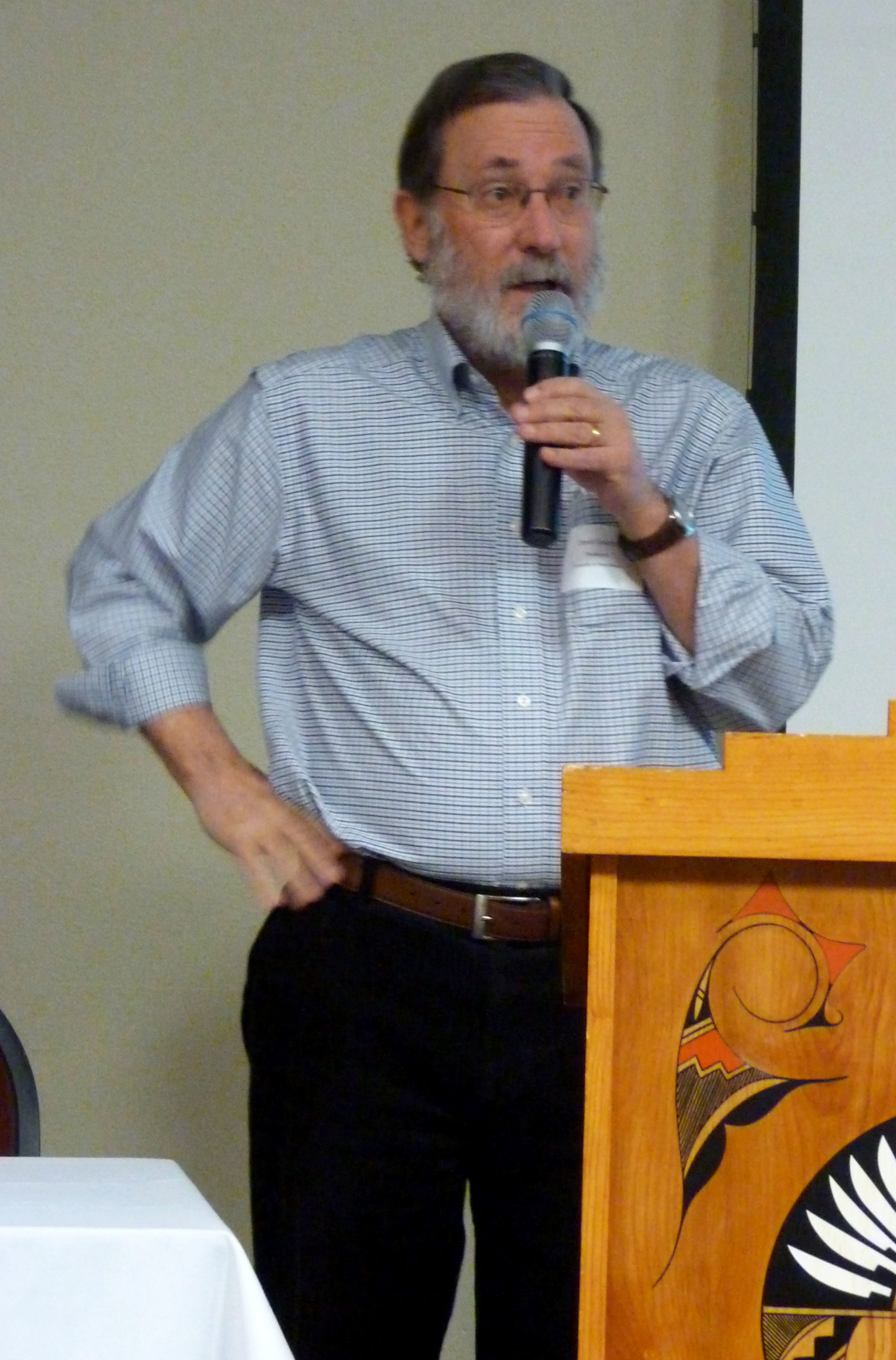 Climate change, the mother of all resilience challenges … If anybody can provide clarity to this challenge, it's David Gutzler, Ph.D. Professor in the Department of Earth Sciences at the University of New Mexico, who has been converting crystal ball musings into hard data for decades now. Gutzler interpreted his many charts, hydrographs, curves, trends and projections for the audience, adding his standard humorous pitch that "even in the Roundhouse I can usually convince people that it's getting warmer." But it was when he described the reality that Albuquerque's Sandias by the end of the century would look like El Paso's treeless Franklin Mountains that the audience understood for real. That is what will happen if the climate model projections are accurate, that temperatures will go up at 4 degrees C. per century. This, explained Gutzler, is an example of climate unrelated to precipitation. El Paso receives approximately the same annual rainfall as central New Mexico but with its climate does not support big trees. What will happen to all the trees in the Sandias? "The clear answer is that they are going to burn," Gutzler says, adding that a colleague of his, a geomorphologist, predicts that landslides and debris flows will result as the vegetation goes away. Further north, he says, Taos turns into the Espanola valley.
A fact Gutzler repeated over and over in many ways was that it's a mistake to equate precipitation with climate. Showing the curves of centuries of precipitation patterns, what is revealed is "a whole ton of variability," he says. "That is the story of precipitation in the Southwest for the last millennium as we live in a place that exhibits extraordinary variability of precipitation, decades and multi-decades of droughts and wet spells and lots and lots of inter-annual variability." The key to understanding a warming climate is to look at snowpack. Here's how he explains it: "So we have wet years and dry years like we've had for millennia in the San Juan mountains, but over the period of time when the temperature's been increasing, the snowpack turns out to be about a 25% downward trend overall in the Rio Grande headwaters. That is the basic warming signal pertaining to water resources that affects our surface water supplies, that snowpack in snow-fed rivers across the Southwest, and in fact across western North American, is going down precipitously."
So what should we do? Gutzler says there are two ways to address climate change. One is mitigation, i.e., minimize the activities of people that are producing the climate change. The second approach is adaptation. Gutzler says the two things are not mutually exclusive and we need to do both. The problem with any mitigation solution is that it needs to be global, which Gutzler says isn't happening. Even if we devise a regional statewide climate plan for New Mexico, we can't count on the international community to reduce emissions. He attributes the lag to the political impasse between the economies of Asia that do want to cut emissions until they've had a chance to grow their economies more, while the countries of Europe and America that don't want to cut their emissions on a national scale until the countries in Asia do.
So, until then, adaptation to a hotter and drier climate is needed. Rising temperatures have big hydrological effects even in an uncertain regime of precipitation (snowmelt, snow pack, and snowmelt runoff).
A huge implication is that when there are precipitation deficits as part of natural variability, the droughts will be worse because warmer temperatures are going to increase the demand by plants and dry out the surface and basically make droughts and evaporation rates and runoff worse. Thus recent droughts have been more intense than the 50s drought when the precipitation deficit was stronger, simply because the temperature is higher. Gutzler says New Mexico should continue to contribute to global mitigation efforts, but statewide efforts by themselves will not bend the mitigation curve. We need to adapt to a weaker, earlier snowmelt runoff peak with more intense precipitation and stronger droughts. "There are plenty of stresses on our whole water resource infrastructure that have nothing to do with climate," Gutzler concludes, "but climate change is one of these things that tends to take existing stresses and just make them worse, and that's the way we need to think about it." It's from here that we need to figure out what we're going to do.
---
Resilience as a Lens for Governance
Keynote by Melinda Harm Benson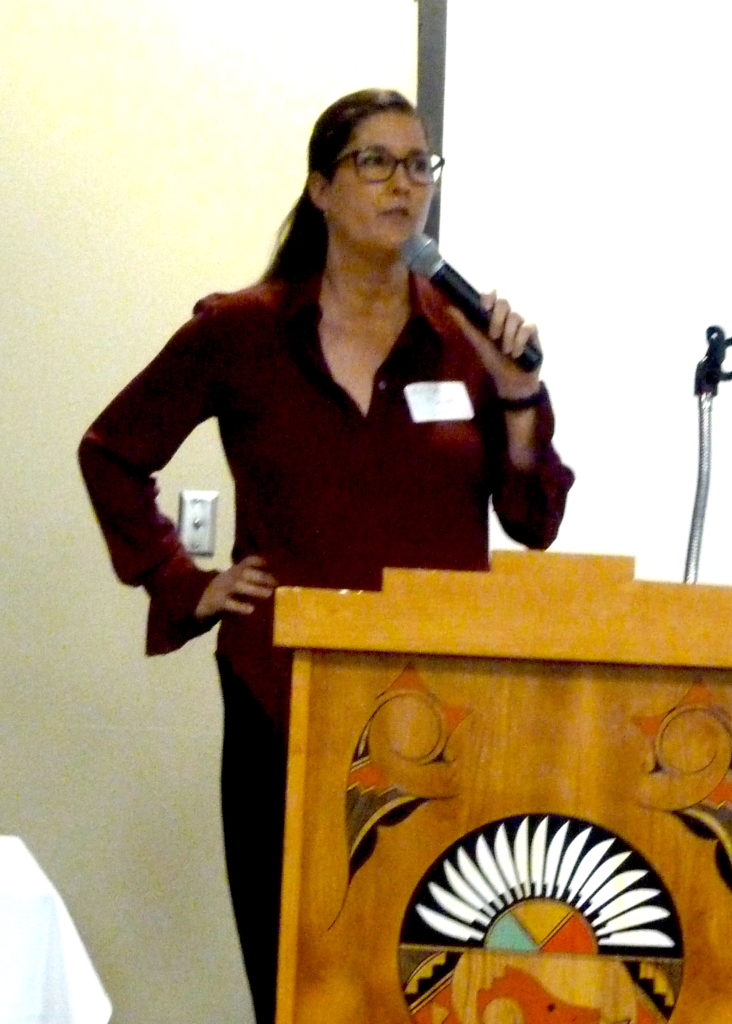 David Gutzler's dire conclusions, leaving participants in need of a primal scream, provided a useful springboard into the next talk by Melinda Harm Benson, Associate Professor in UNM's Department of Geography and Environmental Studies. While Gutzler describes himself as "just the climate guy", and "a humble academic scientist," rather than a policy advocate, Dr. Benson takes environmental disturbances in changing times and proclaims that humans, through appropriate governance, can steer outcomes toward the positive over what could otherwise become apocalyptic. In her co-authored book, "The End of Sustainability: Resilience and the Future of Environmental Governance in the Anthropocene," she eschews the long-hallowed pursuit of sustainability in environmental management, saying that human activities have created a world that has reached a point-of-no-return to the simplistic notion of "the balance of nature," that while natural systems used to achieve equilibrium, these systems have been replaced by complexities and uncertainties created by humans that require a corresponding change in thinking so as to require radically different policy and legal solutions—a way of thinking through what she calls the "lens of resilience."
She takes the vivid example described by Dr. Gutzler, that based on climate data, the Sandia Mountains will likely resemble the treeless Franklin Mountains of El Paso before the end of the century, one reason being that these forests will burn, potentially followed by landslides and debris flows washing into waterways affecting water quality and drinking water supplies downstream– a cascade of disasters attributed to climate change. It's assumed that multiple ownerships from federal agencies to private inholdings would hinder any consistent policy agreement on mitigation methods such as forest thinning and biofuel removal. Benson says there are things to be done. When people collectively agree and move together, it's doable to change the system, not with magical thinking, but by achieving the necessary jurisdictional organizational coordination to take measures. This is resilience thinking.
She defines resilience as the capacity of a system to absorb a spectrum of disturbances. This takes an examination of what she calls "cultural identity"; i.e., things that all people from all different persuasions can rally around. To successfully employ resilience thinking, "we need to open the door really wide to a lot of different ways of thinking in relationship to what is important to people," she says. She cites an example, that of protections for the endangered silvery minnow. She claims there may not be sufficient buy-in from the various publics to apply a "cultural identity" imperative for its survival. "For various reasons minnow recovery is not a proxy for ecosystem health," Benson says. "The cottonwood bosque is that proxy and if you can do cottonwood recovery, you can achieve a lot of minnow recovery and get many more people on board. That's your water governance strategy." In other words, nearly all people regard the cottonwood forest as a contributor to how they view their culture and are anxious to preserve. If you get behind regenerating the bosque, you can do work that is good for the minnow.
To a great extent, resilience thinking requires a certain fearlessness, an "embrace of the trickster as an agent of change," as Benson describes it. It's a willingness to forge new pathways using traditional means of transforming laws and policies that address the complexities and uncertainties of what will be a different world, rather than a return to what was, or a clinging to "stationarity of uncertainty." Benson describes a concept within resilience thinking called transformability, or "the capacity of a system to reconceptualize and create a fundamentally new system with different characteristics." Benson says this does not magically happen, that the system has to be prepared for change, that groundwork has to be laid to prepare the way. "We should not be focusing on places where we are going to hit those roadblocks of litigation, or arguments over scientific uncertainty," Benson concludes. "There's so much more we can do from an adaptation standpoint where we all do agree and take action where we can."
---
In Memoriam Peter M. Pino
The New Mexico Water Dialogue lost a long-time member, speaker, and friend with the passing of Peter M. Pino, former Governor and Tribal Administrator for the Pueblo of Zia, on May 2, 2020. As the official statement on his passing notes, he was a "friend, teacher, mentor, artist, translator, elder, and leader to many individuals, boards, and organizations throughout Indian Country and across many walks of life." He "raised awareness [of] … the inherent right of tribal nations to self-govern and self-determine, and advocated for the teaching, learning, honoring, and preservation of Indigenous traditions, culture, values, principles, language, songs, and dance of all people."
The Dialogue remembers him particularly for his collaborative work to implement shortage-sharing during a 1996 drought and to move towards a community-based settlement with his friends and neighbors along the Rio Jemez.
Governor Pino was featured in a number of articles in Dialogue. We share these memories with you.
---
As members of the [Rio Jemez drought] tour met local officials the length of the valley, something unexpected happened: they recognized people they knew, people they had gone to school with. "We hadn't realized they were in positions of leadership, just like they hadn't realized we were. I guess we still had an image of ourselves as seniors at Jemez Valley High," says Peter Pino, who discovered that one of his old classmates was mayordomo in the village of Ponderosa. A mutual past made the work of communication easier. "Because they knew us, they heard what we were telling them…. In the weeks following the field trip, the group of stakeholders met again and again, bent on staving off the imminent federal injunction with a settlement of their own…. After a number of drafts, the group produced a landmark contract between the Pueblos of Zia and Jemez, and the Jemez River Basin Water Users Association.
– Healing the Jemez, November 1996, reprinted Fall 2013
---
"No matter what kinds of plans you have, they never work out… The archaic, the simple, is going to prevail in the end, for no matter how much technology we have, or planning we do, there's a power greater than the human race, and that's Mother Nature." It is crisis that usually forces us to make important decisions, Pino says, and in doing so, we have to decide whether to act on behalf of ourselves, or for the good of the bigger society. "As Indian people we've always looked back three generations and forward three generations. How will the decisions we make today impact our ancestors, or the children yet unborn?"
Eventually, Pino believes, "those that fight over resources will kill themselves off. Self-centeredness, greed, and ego will be their demise." Instead, he counsels mutual respect, and truly listening to what others have to say. "If we just go through the motions, Mother Nature is going to shake us up and we will have no choice."
– 19th Annual Dialogue Statewide Meeting: Reviving Water Planning in New Mexico, Spring 2013
---
"The word 'ownership' comes from Europeans, from the other people that came to this world later. So we're forced into using that word 'ownership.'…. When you start using that term and start looking at the world in that way, greed sets in and you start taking, whether you're entitled or not. You start taking from others, and that's what the government and the bigger America has done to the Native people. Everything is a two-way street. You can't just take and take and take and not give anything back."
– Statewide Meeting Speakers Address "Accountability," Summer 2009
---
"I have listened as you talked about your values," [Mr. Pino] said. "Let me tell you about ours. At Zia, our water is precious. We don't allow lawns. We don't water trees. We don't wash cars. We don't even water our livestock from domestic wells. There's a fault line west of the Pueblo, and all the good water is to the east. We're concerned about Rio Rancho and Albuquerque – the more water they use, the less we have. Pueblo people believe we have an obligation to leave water for those unborn. The irrigation water we use is only for crops consumed by humans. Up the road from Zia, there is pasture and alfalfa – an oasis, continually irrigated. Our irrigated land are dry-looking and brown. Next time you pass, notice the difference."
Though he believes "dialogue" is good, and that we need to try to educate each other, Pino hopes that those who meet to discuss water are trying to get the word out to a larger audience and not just talking amongst themselves. He reminded his listeners that for four days in January, the people of Zia would be praying "to bring rain to our state, our nation, our world. The Spirit," he said, "knows no boundaries. I encourage you in your own ways to pray that we'll be rewarded with the water we need. Each drop is important, and each one of us is a drop."
– Promise . . . and Prayer, April 2000