A Meeting Like No Other
The 2021 New Mexico Water Dialogue 27th Annual Meeting
By Lucy Moore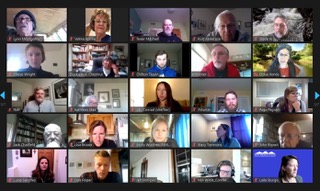 Twenty-seven years ago, when the New Mexico Water Dialogue held its first statewide meeting, the room at the Pueblo Cultural Center was packed, the coffee was flowing, the pastries crumbling, the enchilada lunch simmering, the slides clicking, presenters testing mics, participants chatting and shifting in chairs. You get the picture. Maybe you were even there, or at one of the subsequent annual meetings, all more or less the same. No one could have dreamed that in 2021 that room would sit empty and the meeting—more vibrant, energetic and collegial than ever—would take place….in space!
Yes, the 27th annual New Mexico Water Dialogue was zoomed this year, Jan. 13 and 14. The board took a chance, choosing to carry on the tradition and bring people together around state water issues online. They hoped for the usual 120 or so attendees and were overwhelmed by over 250 registrations. Half of those attending online were first-timers. And more than half were under 50 years old, with a good number under 35. The geographic representation was broader, naturally, and so was the affiliation of participants. Half were from federal, state and local government, a third from non-profit and community groups. A good number of tribes, academia, and business rounded out the group. A poll taken showed that 98 percent of attendees would recommend the event to friends and colleagues.
The Dialogue is committed to helping people find common ground around water use and management. Our assumption has been that this requires in-person gatherings for honest talk and relationship building, but this year taught us otherwise. Somehow all those people, reduced to boxes on a screen, generated energy, made significant connections with each other, and experienced the powerful bond that water provides for us all, no matter who we are.
This meeting's success was thanks to organizers, presenters and participants, who took on the challenge with courage and optimism. But I would also credit Zoom, where all are created equal. No one's box is bigger, no one's voice is louder, no one knows how expensive your suit is or how shabby your jeans are. It is easier to focus on Zoom; you're not distracted by the lure of a coffee urn, the person who just entered the room or road conditions for your trip home. And if you are a multi-tasker, there is the chat box where you can carry on a parallel conversation about the topic, go off on a tangent with those who want to join you, or share a link to a relevant article. The facilitation was challenging, of course. Virginie Pointeau ran the technology behind the scenes, masterfully handling late registrants, dropped connections, scanning the chat, shuffling people among breakout sessions. My job as the upfront person was easier, although I admit to a prolonged adrenaline rush.
The Dialogue Board, led by chair Jason John, developed an agenda that focused on the state's 50-year water-planning effort. Interstate Stream Commission staff, Lucia Sanchez, Rolf Schmidt-Petersen and others, partnered with the Dialogue Board and were key in recruiting the large number of new attendees. This partnership was an important signal that the state welcomes ideas and guidance from the full diversity of New Mexicans. In his welcoming remarks on behalf of Gov. Lujan Grisham, John D'Antonio, State Engineer and Interstate Stream Commission secretary, emphasized that the first priority of the plan development process was listening to all stakeholders, and true to his word he was present and listening throughout the two-day gathering.
Keynoter Eric Perramond, professor of Environmental Science and Southwest Studies at Colorado College, shared insights about sharing water that he had gained from the New Mexico experience. He questioned the usefulness of Western water laws and policies which never contemplated the challenges of today: fierce competition for scarce water, and a changing climate. He suggested that traditional ways of sharing water in New Mexico, still alive and well in some areas, could be a model for new approaches to water allocation and management.
Rounding out the morning was a conversation moderated by Laura Paskus, producer of New Mexico in Focus' series "Our Land: New Mexico's Environmental Past, Present and Future." Her three guests offered views of water from a cultural and social perspective, focusing on the deep value that water holds for their communities and inviting all of us to share in that connection. In her remarks on "Revitalization of Indigenous Stewardship and Management of Water," Phoebe Suina, (Cochiti/San Felipe), president of High Water Mark, urged us all to see water as a resource belonging to us all, and in that spirit to take only what we need, never take it for granted. Although she said she regrets the existence of the Cochiti Dam, she takes the long view and knows that there will be a time—only a few decades away—when the dam will reach the end of its lifespan and be removed and the river will run free again. Although she likely will not be there to see it, she smiled at the thought.
Kai-t Blue Sky (Cochiti) is an educator who shares his values related to water with his students, hoping to inspire and empower them to become wise water stewards. Water is a part of every stage and every activity of life, he said, and because it is so critical, he believes it holds a core value at the heart of his community. "Water is a member of my family," he said in closing. Gabe Vasquez, Las Cruces city councilor and member of the Nuestra Tierra Conservation Project, described his personal history with the Río Grande. His slides focused on "Justice for the Río Bravo and its People" and took us down the river, beginning with its capture at Elephant Butte Dam, its highly regulated release, and the irrigation diversions on its way through Las Cruces to El Paso. His final slide showed a rare flow that enabled families to splash and tube in two feet of Río Grande water. At last, he suggested, we see the real meaning and value of water as a giver of life and joy.
If the first day of the annual meeting focused on the human and cultural values of water, the second shifted to the state's responsibility for protecting and managing the water. And yet, interestingly, the theme of listening ran through the second day as well. Rolf Schmidt-Petersen shared his time with several staff and stakeholders to talk about their roles, and for some, their hopes and fears, in the development of the 50-year water plan. The plan, he explained, will be a framework for making decisions, based on the best scientific data, about policies and projects that will provide a secure and equitable water future for the state.
Schmidt-Petersen also built on the first day's messages about the central role of values in determining how to manage water, giving a glimpse into a plan and process that could be sensitive and responsive to the wide diversity of needs. He posed to the attendees two questions: What water-dependent resource is most important to you? How do you measure progress in protection of that resource? He described the planning process that lies ahead and the many opportunities for citizen involvement.
The morning of the second day concluded with a panel led by John Fleck, UNM professor, N.M. Water Resources program. Also a journalist and author, Fleck concluded that, although data is important, water management is ultimately more about values than about science. Panelist Casey Ish, Middle Río Grande Conservancy District, described the MRGCD Conservation Program and current activities that include improving irrigation structures and controls and an innovative Partial Season Leasing Program for farmers who are compensated not to irrigate at the end of the season. Quantina Martínez, Water Resource associate with Audubon New Mexico, told the story of the Middle Río Grande Farm and River Resilience Project, a partnership among federal and state agencies, environmental organizations, academia and irrigators. The project is restoring and creating habitat for two endangered species, the silvery minnow and the willow flycatcher, along the Isleta Reach. These were impressive examples of collaborative efforts among agricultural interests, municipalities and environmental advocates on the Río Grande.
The afternoon was dedicated to "Table Talks," where attendees could dig deeper in small groups. Registrants chose topics and were divided in breakout groups on Zoom. The topics and highlights are below:
Table Talks
50-year water plan (4 tables): Key takeaways:
accessible, welcoming, robust public involvement
regular, clear communication
collaborate, take time to build trust
include culture and values
accessible data, existing and new
look at regions and basins
build in resiliency
engage with children; they will be around in 50 years
engage tribes
include actions, road maps, to solve problems
Water Data Act: Key takeaways:
need good water data for modeling, decision-making, management, sustainability
promote education, go back to basics
N.M. can be leader in water management
need to consider our neighbors as we manage our water
Agriculture and Rangeland (2 tables): Key takeaways
Couple bottom-up grassroots efforts with top-down policy implementation
Challenge of translating small-scale successes into large rangeland scale
Open, flexible, collaborative approach to meet climate challenges
Need data, education, economic relief to make this work
Problem: gentrification of rural lands, social justice issue
Agriculture—support for young farmers
City and County Water Systems: Key takeaways
Innovations are complicated; impact of re-use on downstream users and on return flow credits; example, stormwater harvesting
Need to act incrementally, no silver bullet
Need many policies to address specifics
Environmental Flows, ESA, Conservation: Key Takeaways
Expand water leasing statewide with staff and funding
Create water bank for environmental flows
Strategic location of storage and timing of releases
Look for recurring funding, eg., municipal "environmental tax"
Tribal Water Issues: Key takeaways
50-year plan must recognize tribal sovereignty, key to good relationship
Each tribe sovereign, need individual outreach in planning
Young tribal youth have skills, knowledge to participate in water issues
Need funding for infrastructure to move water within tribal boundaries
Need ongoing forums to discuss water issues, include youth
Middle Río Grande Basin Study: Key takeaways
Find largest water losses and actions to keep water in the river
Bracket forecasts and strategies to plan for water supply futures
Need proactive, ongoing water supply planning and adaptive management program
Build on the basin study, recommend implementable actions
Water policy in the Legislative Session (2 tables): Key takeaways
Critical to fully fund the 50-year water plan
Meter all wells and uses, and collect data
More funding and tech assistance for water operators, especially small and rural;
Mechanism for older priority users (including tribes) to use Elephant Butte water rights that are not fully used
Groundwater Policy: Key takeaways
Manage water across boundaries: surface-ground, among agencies, watershed focus
More dialogue; push political will for more collaborative, less insular, culture
Actively manage groundwater
Implement prior appropriation or dump it?
Consider adjustments of water permits vs. rights
Regular, accurate evaluation of depletions
Forests, Watershed, Riparian Health (2 tables): Key takeaways
Restore headwaters; "true progress starts from top-down"
Forum to continue discussion and outreach on projects and case studies about watershed resilience and riparian restoration
Science-based approach to maintain water quality including temperatures for cold-water aquatic life in headwater streams
Better funding opportunities for private land owners for riparian restoration
Consider climate change in restoration; use plant strains better adapted to warmer climate
Impacts of the Colorado River Management on N.M.: Key takeaways
Challenges to San Juan Basin: climate change, drought, aridification, interstate compact compliance, endangered species.
Act now to build resilience of the San Juan River system
Middle Río Grande and the San Juan River are interconnected, as are their communities. Manage both systems to do no harm to the other
Make universal access to clean and abundant drinking water a top priority for the San Juan Basin, especially for Tribal Nations, whose health has suffered disproportionately
During the report back from each breakout group, some common themes emerged. More dialogue among the wide diversity of New Mexicans will lead to equitable, workable solutions to our water challenges. Both decision-makers and citizens need access to accurate, current data on supply and demand to inform the best possible policies and decisions in the future. Young people have much to offer and much to gain from participating in the water conversation. The challenges of climate change must be addressed in all parts of water management.
And finally, having the New Mexico Dialogue annual meeting via Zoom has some definite advantages, as reflected in numbers and diversity of attendees. The 2022 annual meeting will strive for some kind of hybrid, where those hungering for that enchilada lunch can come in person, while those far away can tune in on Zoom. Look forward to seeing you all then.
Presentations can be found at: https://nmwaterdialogue.org
The Water Dialogue thanks the Green Fire Times for letting us publish this article which appeared in their March/April issue. For more information see https://greenfiretimes.com.
Lucy Moore, mediator and facilitator, is co-founder and a big fan of the N.M. Water Dialogue. She facilitated the 2021 annual meeting on Zoom with Virginie Pointeau. She blogs at www.lucymoore.com